Workbridge buried a time capsule on Tuesday 6th October 2020 to celebrate 40 years of helping people with mental illnesses, learning disabilities, ASD or brain injuries, gain life and work skills.
St Andrew's Healthcare vocational service provider Workbridge, turned 40 years old in 2020, and to celebrate the ruby occasion, planted a time capsule yesterday (Tuesday 6th October) with Anne Jones, widow of founder Michael Jones. In attendance on the day was Anne Jones and Matthew Tyrell, Director at Michael Jones Jeweller, alongside service users and staff at Workbridge. The capsule is filled with stories and items handmade by people at Workbridge in 2020.
40 year anniversary
Workbridge celebrated their anniversary earlier in the year with a cutting of cake in June, and an online disco for community service users - but with the covid-19 pandemic, many planned events were either cancelled or postponed.
"Once we knew that we were able to re-open to service users again, we felt that planting a time capsule in autumn would be a memorable way of marking our 40th anniversary and have everyone involved in some way...", said Alex Simmons, Marketing & Digital Media Coordinator at Workbridge.
Alex continued:
"Inside the time capsule we have included items that we have made in session at Workbridge by patients, service users and instructors during 2020 – including wood, ceramics, textiles, pictures and stories from across the charity. Included is an amazing story from one individual about shielding and working within mental health services during a pandemic. We have written a letter to our future selves that explains who we are and our 40 year history, alongside pictures of this remarkable year at Workbridge. The sign has been kindly made by Workbridge Woodwork. We hope that the next people to open the time capsule (in 2060), gain an insight into 2020 and can look back on the journey of mental health services in that time."
Celebrating with founders: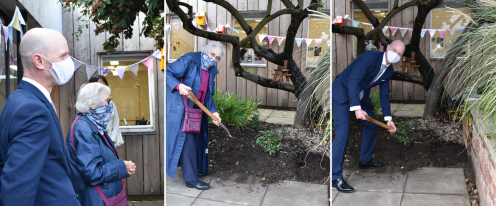 Having Anne Jones and Matthew Tyrell present from Michael Jones Jeweller was a fitting tribute to late founder Michael Jones, who helped to set up Workbridge alongside St Andrew's social worker Dorothy Davidson in June 1980. Find out more about our 40 years of history in mental health within Northampton.
Anne Jones, who has been a passionate supporter of Workbridge and the Daily Bread Cooperative (both organisations were set up by Michael Jones) said of the time capsule ceremony:
"I was privileged to be included in a ceremony to bury a time capsule of the history of Workbridge over the last 40 years and which will be looked at in another 40 years. My visit concluded with afternoon tea. A delicious end to an enjoyable and informative visit".